Implementing eLearning and/or a Learning Management System (LMS) is a significant investment in resources and budget. It can also feel like a 'leap of faith' when engaging an e-learning or LMS provider. Engaging a provider requires trust. It requires a deep and mutual understanding of requirements and expectations.
It's inevitable there will be misunderstandings along the way. The trick is to acknowledge and deal with these early, before the issues become embedded in the project.
Signs that your eLearning/LMS project is at risk
There are no project controls in place to monitor time, cost and quality. These project controls should be shared between you and your eLearning/LMS provider.
The provider has not given you a comprehensive list of functional and design specs prior to build.
The provider has not provided a working proof-of-concept prior to full e-learning/LMS build.
You have not used the proof-of-concept to test the e-learning course or external LMS in your standard operating environment.
You have not had a meeting (F2F or teleconference) with your provider in over a week.
Your internal project team are becoming less engaged with the project.
You have a sinking feeling that the project is not delivering to your expectations, but you can't put your finger on the issue/s, so you ignore your feeling.
"That which gets captured and measured gets done"
Although project tasks, roles and responsibilities may seem obvious, and the assumption is the eLearning/LMS provider is experienced, the only thing you have to fall on when issues arise is your documentation. It is better to be overt and clear than to assume. Put project controls in place to capture project progress, monitor quality and mitigate issues.
Use a project management approach to manage eLearning and LMS projects. Below is a synopsis of project activities and tips for managing an e-learning project – click to enlarge.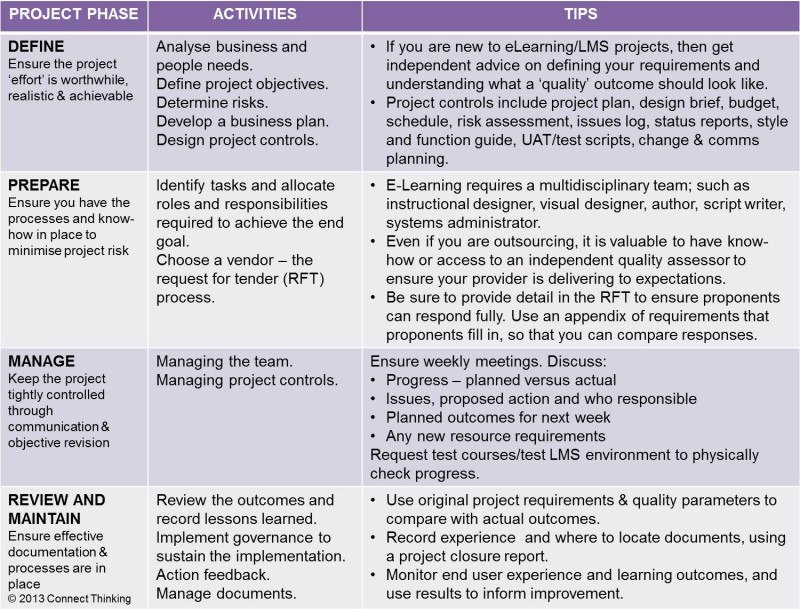 Need help?
Supporting organisations in eLearning and LMS projects is a large part of our business at Connect Thinking. It is surprisingly cost-effective, and project processes and templates are re-usable. Feel free to contact me to discuss your e-learning and LMS project management needs. Use our Contact form or call +61 417 252 960, or 02 9988 3412.