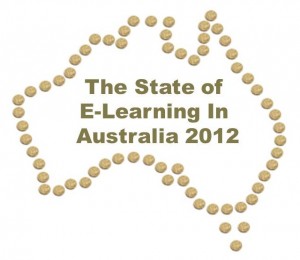 Question from a client:
We're an organisation of about 1000 people and we don't have any e-learning. How far behind are we?
This question led me to think about a much larger question – the state of e-learning in Australian organisations in 2012. Now, before you read on, please be advised the following is my opinion, based on five years of consulting in Australia across about 80 clients. My experience is not exhaustive and my opinion will have inherent biases. But, here it is:
The divide between the e-learning 'have' and 'have not' is widening: Australian organisations who started in the early 2000's tend to have a mature e-learning strategy, mature e-learning operations and the Chief Executive on side. Those who are just beginning are looking for agile, cost effective models. But these models are hard to find from reputable e-learning providers, or are prone to budget blow-out. While organisations with a mature  e-learning strategy are experimenting with new delivery modalities, those who are new to e-learning are getting 'stuck' with cumbersome Learning Management Systems and e-learning that costs a fortune to update or is such poor quality that it mares staff experiences of e-learning.
Systems before agility: E-Learning in Australia has been biased towards solving the auditing requirements of compliance training. Learning Management Systems for 'just-in-case' learning have taken preference over more agile and less expensive 'just-in-time' performance support platforms that support workplace learning and productivity improvement. This is a shame.
Lack of education opportunities for learning professionals: I don't know of any diploma or degree that delivers education in e-learning design and management for organisational contexts i.e. not VET or tertiary learning design, but organisational-focused e-learning strategy and operations. The best 'real' development available for organisational trainers and learning professionals are workshops, conferences and coaching, but these don't really satisfy the immersion into e-learning design and development required to become an expert. Fortunately, a few experts in organisational e-learning are consistently sharing their skills and opinions for others to learn from. One excellent example is Ryan Tracey and his blog E-Learning Provocateur. And, I hope our blogs and YouTube channel help too.
Lack of career e-learning experts: Learning and Development has long been plagued by transient staff who use their time in L&D as a springboard to management or marketing. Additionally, L&D budgets are vulnerable to cuts. It is very difficult to develop and nurture staff into long-term careers in e-learning. In fact, it is difficult to evolve e-learning position decriptions from operational tasks to strategic learning architecture. And then, when e-learning practitioners leave, so do their experience and lessons learned.
Lack of industry accountability: There are a couple of e-learning industry bodies in Australia, ElNet and the E-Learning Industry of Victoria. Within these bodies is leadership from a small group of e-learning providers, usually those in long-term relationships with organisations of a 'mature' e-learning strategy, such as financial services and telecommunications. The differences in expertise, professionalism and quality of e-learning providers in Australia is huge, and many organisations who are new to e-learning are caught between not being able to afford the big providers, yet not knowing how to ensure quality from small providers.
I think the industry needs a voluntary Code of Practice that outlines guarantees in quality, confidentiality and copyright. A Code that welcomes collaboration between client and provider, and provides a process if the customer's experience is not favourable. A Code whereby e-learning providers become a member based on merit, and which helps organisations choose providers of a minimum standard.
I'd be happy to debate this idea with anyone…
Is my client 'far behind'?
I'd say the majority of organisations 400-1000 employees are just thinking about e-learning now. It is up to the e-learning industry to provide agile options to this client group, through cost-effective LMS, quality rapid authoring and providing clients with more than typical e-learning courseware options. Yes – video, webinar,  mobile apps and social media platforms should be part of the mix being offered or advised by providers. And, it is up to organisations to get educated, upskilled and smart about e-learning options. Use your networks and ask questions before committing to an e-learning strategy based on 'best guess'.