Question from a client: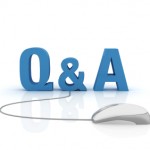 What's one approach to choosing a LMS provider?
One of my roles working with clients is to help them to choose the right LMS and LMS provider for their organisation. This is about helping the client understand their needs and then ask the right questions of the LMS providers. The process usually begins formally, such as a request for quotation (RFQ) to help cast the net out into the market and then narrow down the provider options.
I'm aware that it can take a lot of resources to respond to a RFQ, and so I try to help clients develop RFQs that are specific and straight forward for providers to respond to. By developing a checklist of client requirements, and open questions about the IT environment and cost, the client is more able to compare 'apples with apples' – like for like – when theRFQ responses come in.
The client uses the RFQ responses to choose who they would like to see present. The presentation provides an opportunity for LMS providers to demonstrate their platform in the context of the requirements stipulated in the RFQ. It is also an opportunity for the client to ask questions about the provider's business, philosophy, product improvement timelines, service and support. The presentations provide a useful insight into the culture and attitude of the provider organisation. After all, a LMS purchase begins what is likely to be a minimum 3 year relationship with the provider.
TIPs:
Make sure a weighted criteria for LMS evaluation is stipulated in the RFQ and is used throughout the evaluation process, to help support an objective decision-making process.
Request that providers under assessment set-up a test environment for your organisation to assess and test internally over several weeks. It's in the interest of the provider to ensure the test environment is set up as closely as possible to the requirements specified in the RFQ.
The LMS presenter is likely to be a member of the LMS sales team. Look to see if you can also meet the company director, LMS technical expert and LMS support. Also, where possible, visit a short list of providers on site and have a look at their business operations. It's likely to give you good insight into how the business is run.